HJ – Smart Switchable Glass
Hongjia Glass always takes the management principle of customer satisfaction to become a leading company in global construction and glass industry. Our company is certified by ISO9001, ISO14001 and CE, each glass we produced will be inspected by 18 self-inspections strictly before delivery, even each STG is tested hundreds of times ON-OFF fatigue tests. Therefore, our product is in accordance with the standard of HZ-QB20110528 and certification of CCC for domestic market and CE for oversea market. HJ has a professional R&D team, standardized mass production and customized designs are combined to provide versatile services to all the buyers. In the meantime, we have a strong team of customer service to provide with professional installation guide and technology raining, really let the customer trust and satisfaction.
Hongjia Glass is always in pursuit of innovation and striving to provide the high-quality products with competitive price and excellent service. Always put customers' needs as priority and play an active role to develop the PDLC industry of China. We warmly welcome all the friends from different industries or different countries all over the world to visit our company.
Product Introduction
Smart Glass itself is a glass of safety because it's laminated, and it can control the transparency of the glass, which will bring more space of creativity and space to maintain the consistency and beauty.
Due to the characteristics of liquid crystal film can also as a projector screen use, instead of the ordinary curtain, in the glass show high-definition images.
Smart Glass in the middle of the light adjustment film and film can be more than 90% of the shielding infrared and more than 99% of ultraviolet, infrared ray shielding can reduce heat radiation and transmission of UV shielding, can protect not only the interior furnishings from radiation and aging, degradation, etc., but also conductive to personnel protection from ultraviolet rays and avoid the skin diseases and other symptoms.
Product Structure
Smart Switchable Glass is a liquid crystal film in the middle of two layers of glass, after high temperature and high pressure agglutination formation of the new special photoelectric glass product. Liquid Crystal Film has two status: power off=fog(Opaque), power on=transparent.


Product Features
1.Privacy Protection: Smart glass can be used on office windows, board room windows or office partitions to create private working and meeting spaces in 1/10 second.
2.Projection Screen: Smart glass is also working as an excellent projection screen. A high-lumen projector will give you a clear projection image under an appropriate lighting environment.
3.Safety: Due to the adoption of the process of laminated glass, optical glass film glass bonded firmly, the dimming glass by impact crushing, shards of glass stuck in the middle of the film, does not appear glass pieces splash cuts.
4.Power saving features: Power transparent, power translucent opaque and in protecting the privacy of light remains abundant, deep District Office of the reception room is still bright, not only comfortable, and save the electric lighting.
5.Environmental characteristics: Optical glass shielding more than 98% of the UV light, can protect the interior furnishings not due to UV irradiation and fading and aging, etc., can also protect personnel to avoid diseases caused by excessive ultraviolet radiation.
6.Sound insulation: Dimming glass membrane and film with sound damping effect, can effectively block the noise reached 36 decibels.
Product Diagram

Product Parameters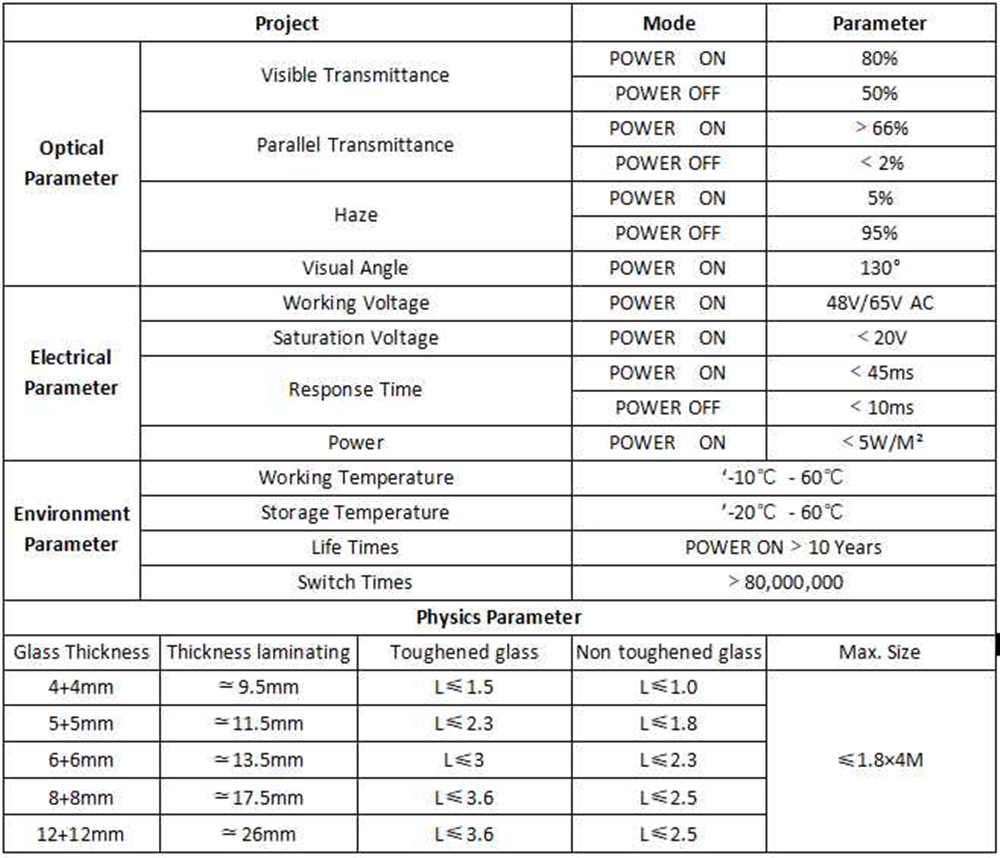 Different color for your choice (Yellow, White, Green, Red, Grey, Blue)


Product Application
Windows


Smart Glass helps keep privacy as maintaining certain amount of intensity of light. Also, both smart glass and SF block more than 98% of UV which is harmful to body and belongings inside.
Projection & Office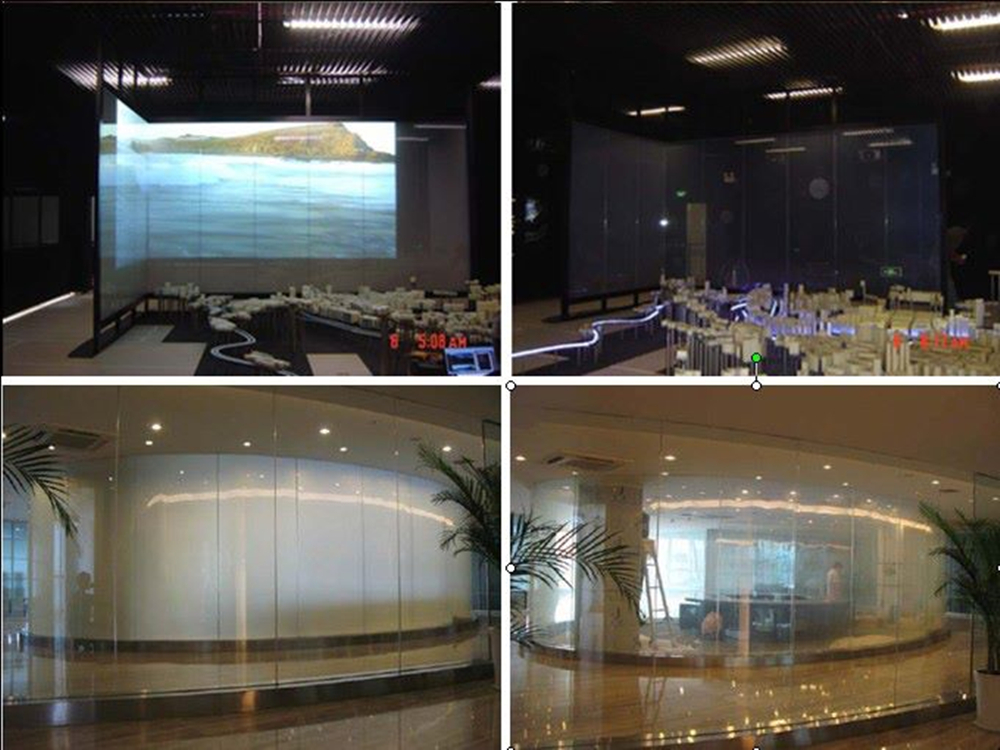 Kitchen



Smart Glass allows people to have dynamic spaces.
Meeting Room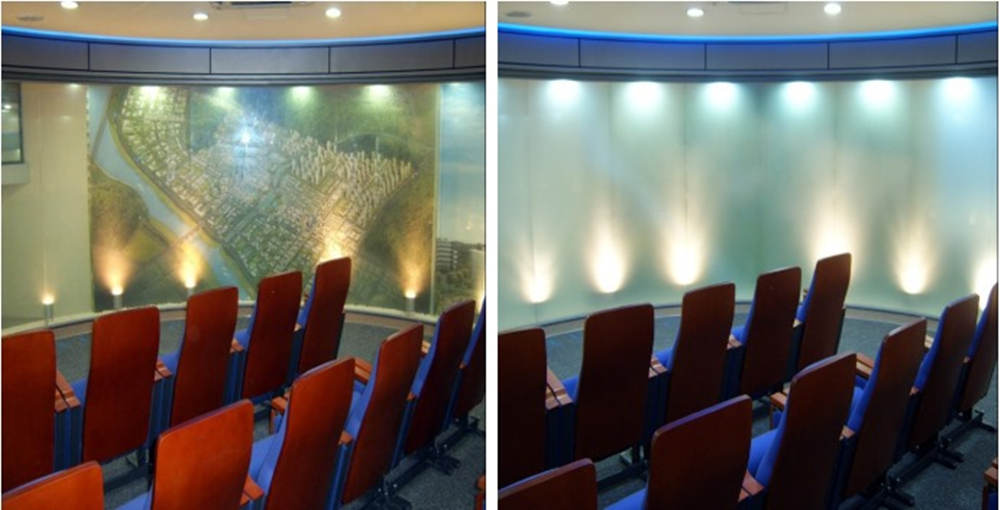 Many people want to have Smart Glass or SF (Self-adhesive Film) in a situation room and meeting room of government or major companies. Especially, the product is controlled by an integrated control system.
Normally, thickness of smart film is 0.45mm, and it can split joint, the interspace between(1-3mm), if these glass panels in the same room, we can use only one set control system, the sqm between 5m2-80m2.
Small Shop


SF(Self-adhesive Film) is popular for advertising purpose at small shops.
Pattern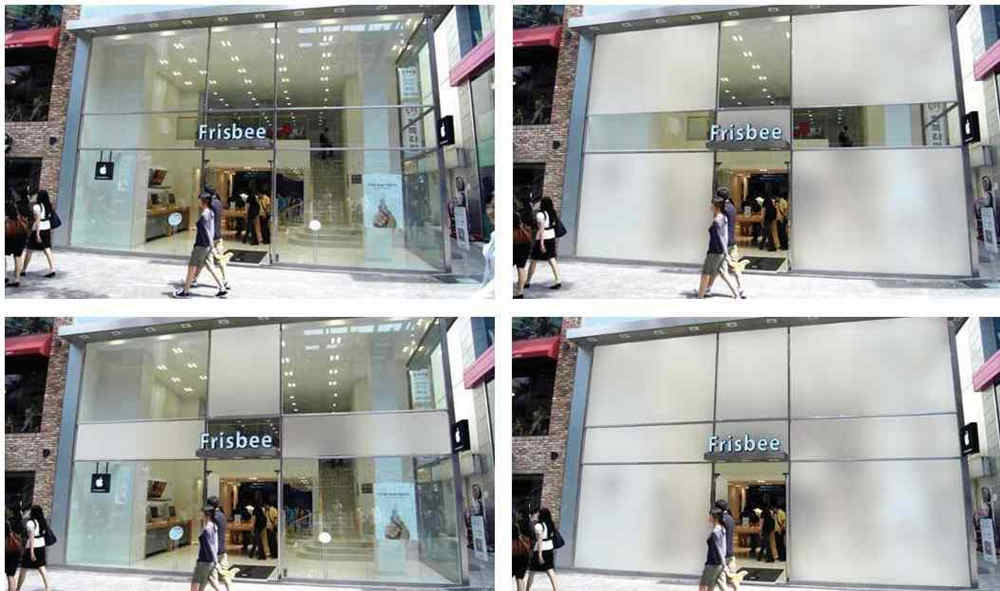 Pattern System for Eye-catch.
Building & Office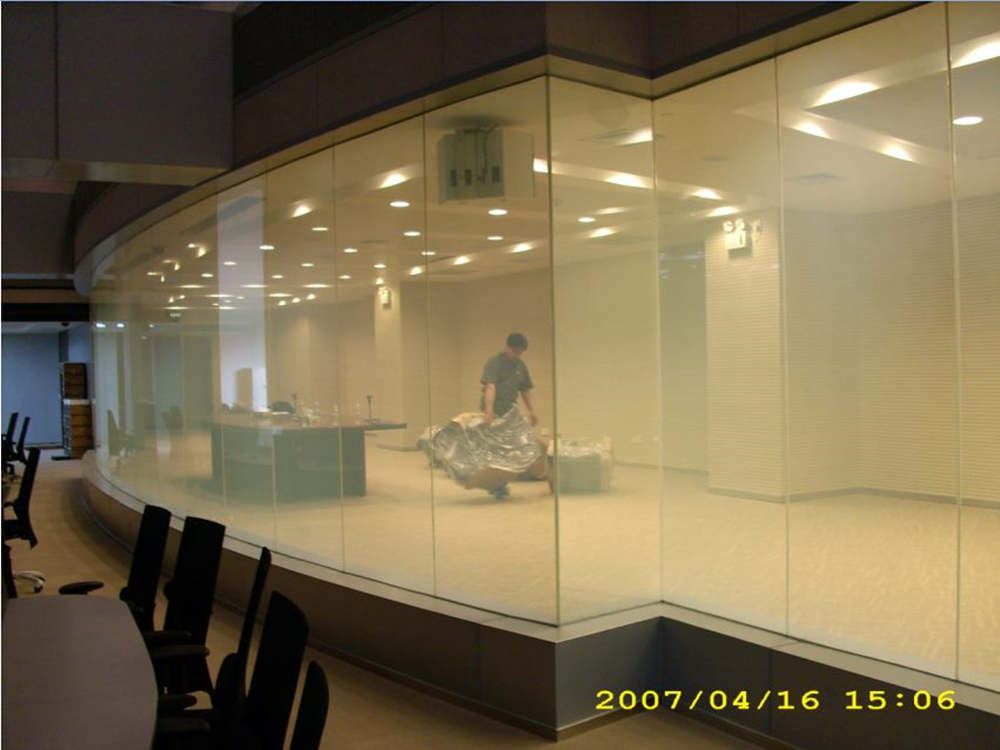 Hotel, Building Exterior, Department Store, Restaurant, Show Window, Conference Room
Control room

Hotel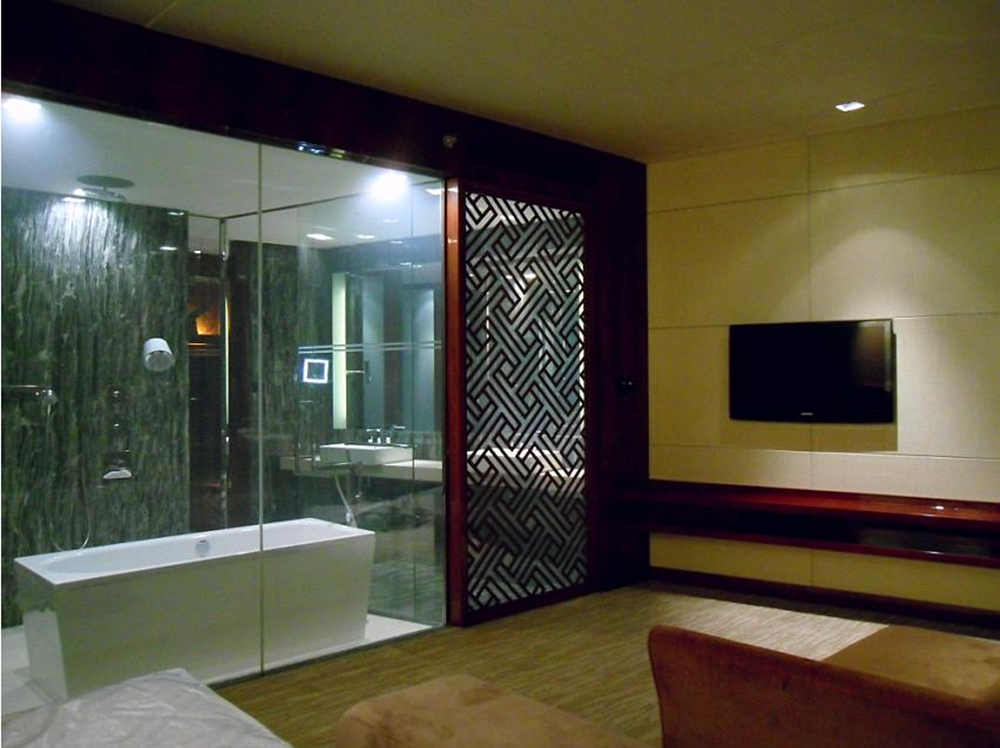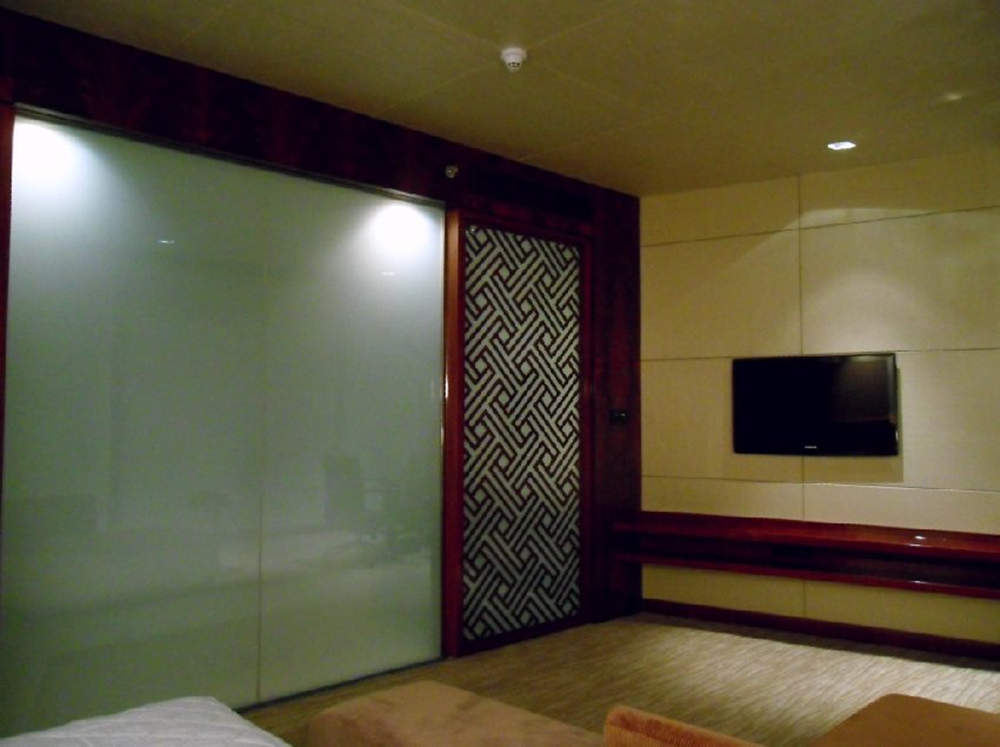 It is popular to use smart glass in hotel and other accommodations to maximize space and privacy. The application of smart glass brings a feeling of exclusivity as well as high-end technology.
Living Room


Bathroom



As Smart Glass is in the living room, you can easily enjoy both openness and private space. It can be used as a screen for a home theatre for a customer who has a beam projector.
Window project (New Zealand)




The effect of two smart glass film splicing together.
About Packing
Shipment term is LCL or Air, the packing will be:

Shipment term is FCL, the packing will be: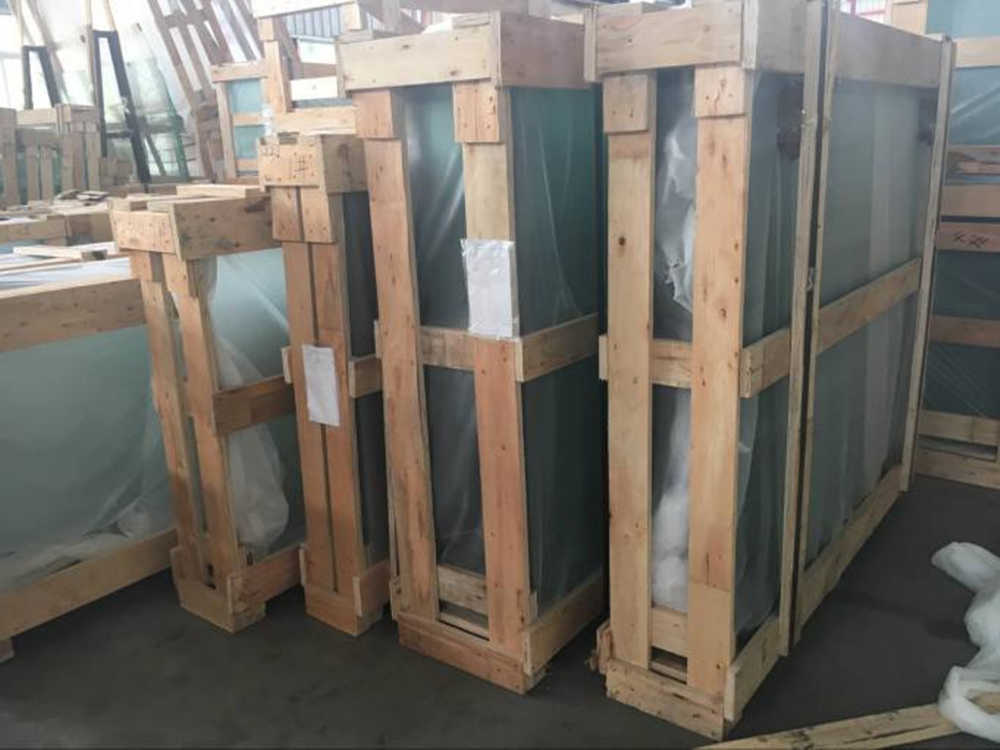 What do we offer?
1)Quick quote, reply your enquiry in time.
2)Technical support, design and installation suggestions
3)Review your order details, double check and confirm your order without problems
4)Entire process follows your order and update you in time
5)Quality inspection standard and QC report according to your order
6)Production pictures and packing pictures will be sent you on time
7)Assist arrange the transportation and sent you all the documents on time
Interior Application: glass doors, glass vision panels, presentation display furniture, projection, windows, glass wall, glass partition, hospital, bathroom, shower room, etc.
CE Certification
CCC (China Compulsory Certification)