U Channel Glass is a recognised and very popular glazing solution, which is versatile and used across all sectors by Architects and Designers, spanning domestic to commercial buildings. This proven system provides an abundance of natural light to flood through in to any environment with aesthetic qualities that creates a look like nothing else.
What is U Channel Glass?
U Channel glass is a translucent U-shaped glass produced in several widths ranging from 9″ to 19″ and lengths up to 23 feet. Channel glass creates uninterrupted walls of glass with minimal framing elements, making it ideal for daylighting applications. This highly durable product allows light to enter buildings whilst presenting a translucent external appearance. A wide range of fitting options provides considerable flexibility.
It has a frosted appearance and the textured surface is on the outside face. The surface makes the glass opaque, but is a very fine finish and does not create issues with cleaning or maintenance. The opaque nature of the product does not reduce the daylight transmission.  It can be extruded with stainless steel wires which creates a pinstripe effect. The wired style is highly aesthetically pleasing.Not only is this an attractive feature, the wires also enhance the U glass's safety performance. If the glass is impacted to breaking point, the wires will reduce the size of glass shards and will also assist in holding part of the glass blade in place.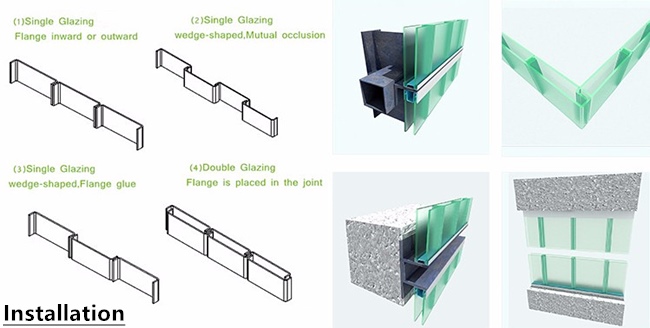 The glass is relatively easy to install. Any competent commercial glazier with curtain wall or storefront installation experience can handle the channel glass installation. No specialized training is required. Cranes are often not required, as the individual glass channels are lightweight.
Its' basic ingredients are sand, limestone, soda ash, and carefully recycled pre- and post-consumer glass. The mix is combined in the sophisticated oxygen-fired melting furnace, and emerges from the furnace as a ribbon of molten glass. It is then drawn over a series of steel rollers and formed into a U-shape. As the resulting U-glass ribbon is cooled and hardened, it creates a continuous glass channel of the specified dimensions and surface finish. The endless ribbon of channel glass is carefully annealed (control-cooled) and cut to the desired lengths, prior to final processing and shipping.
U Channel glass of Hongjia Glass is available in several light-diffusing decorative surface textures, hundreds of translucent or opaque ceramic frit colors, as well as a range of thermal performance coatings.

Any interest, please feel free to connect with us.
https://hongjiaglass.com/wp-content/uploads/2018/11/u-channel-glass.jpg
768
1024
administrator
https://hongjiaglass.com/wp-content/uploads/2017/05/logo.png
administrator
2018-11-21 03:11:37
2018-11-21 03:14:31
U Channel Glass