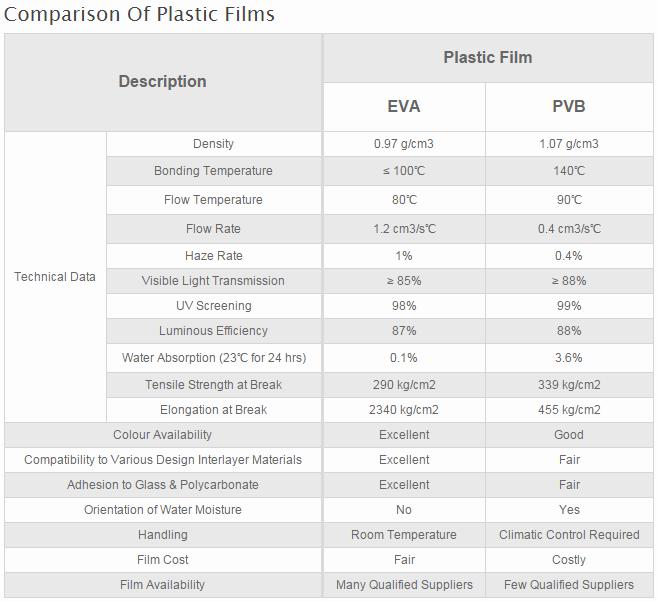 Laminated Glasses
Laminated glass is a combination of two or more glass sheets with one or more plastic inter layers
(EVA /PVB /SGP)sandwiched by the glass sheets. In case of breakage the interlayer will hold the glass fragments together. It is manufactured through a process of heat and vacuuming.
Laminated glass is used when there is a possibility of human impact or where the glass could fall if shattered. It can be found in windshields, skylights, balconies, bank teller windows, and jewelry counters to name a few applications.
Interlayer Film : SGP / PVB / EVA
Cost: SGP > PVB > EVA
Safety:SGP > PVB > SGP
Color:EVA > PVB > SGP
(also EVA does well connected with many different materials,so it's a very nice interlayer for decoration glass)
Bulletproof glass is als laminated glass, it is several film and glass laminated.
Normally,it comes with PVB,dear client,if you have enough budget,then think about SGP  : )
We are known in the industry for offering a complete range of Laminated Glasses comprising PVB Laminated Glass and EVA Laminated Glass in various dimensions, as per the specifications of our clients. These glasses are widely applicable in homes and offices owing to their distinguishing features of high strength, soundproof, anti-shock and fade resistance. Our range of precisely designed Laminated Glasses is explained below:
PVB Laminated Glass
Laminated glass, commonly used in the automotive and architectural fields, comprises a protective inter layer, usually polyvinyl butyral, bonded between two panels of glass. The bonding process takes place under heat and pressure. When laminated under these conditions, the PVB inter layer becomes optically clear and binds the two panes of glass together. Once sealed together, the glass "sandwich" (i.e., laminate) behaves as a single unit and looks like normal glass. The polymer inter layer of PVB is tough and ductile, so brittle cracks will not pass from one side of the laminate to the other.
We source a wide range of Laminated Glasses from trusted vendors of the industry. PVB Laminated Glass is formed from a combination of two or more glass sheets with one or more inter layers of plastic (PVB) or resin. The inner plastic offers strength to the glass, especially in case of a breakage. In such as case, the interlayer holds the fragments together and continues to provide resistance. These glasses are best suited for shop-fronts, balconies, stair-railings and roof glazing, where it is important to ensure the resistance of the whole sheet after breakage.
We offer two types of laminated glasses, PVB and resin laminated glass. PVB laminated glass is formed by the combination of two or more sheets of glass which are bonded together with one or more layers of PVB under heat and pressure. The resultant is a single piece of glass. On the other hand, resins laminated glass is manufactured by pouring liquid resin into the cavity between two sheets of glasses that are held together till the time resin gets cured. Our range of PVB Laminated Glasses is characterized by the following features:
Good safety performance
Anti-bumping and anti-shock
Pierce resistance
Soundproof and heat isolated
Strong UV resistance
Available in diversified colors
Durable and fadeless
The range is offered in the following technical specifications, to suit the diverse requirements of our clients.
Maximum size: 2000 mm × 3000 mm
Minimum size: 300 mm × 300 mm
Thickness: 4 -80 mm
Number of layers: 1- 4
PVB color: Clear, milky, gray, blue, green, pink and bronze
PVB thickness: 0.38 mm, 0.76 mm and 1.52 mm or above
EVA Laminated Glass
We are engaged in supplying Resins Laminated Glass that is manufactured by pouring liquid resin into the cavity between two sheets of glasses. These sheets are held together until the resin cures. The material of construction used in laminated glasses is a high adhesive film made of polymer resins of ethylene vinyl acetate. Further, the range is appreciated by the clients for the following features:
Excellent safety performance
Wide range of processing temperature
High anti-aging and optics performance
Suitable for small oven producing
Simple curing process
Storage at normal temperature
Good adhesive to other material
We offer laminated glasses in different dimensions of thickness, width and length to meet the diverse requirements of the clients:
Thickness: 0.15 mm, 0.20 mm, 0.25 mm, 0.38 mm, 0.76 mm, 1.14 mm
Width: 1800 mm x 2200 mm
Length: 150 m, 100 m per roll
Fabric EVA Lamination is the combination of plain, tinted, reflective, figured, mirror in various thickness from 2 mm to 12 mm with clear, colored films and clothes. it is frequently used by architects and interior decorators for various application such as exterior, interior and decorative purpose.
It has following advantages:
Anti UV clear
Transparent colors
White Opaque
Transparent clear
Opaque colored
Frosted effect.
https://hongjiaglass.com/wp-content/uploads/2018/03/pvb-vs-eva-laminated-glass-2.jpg
750
1000
administrator
https://hongjiaglass.com/wp-content/uploads/2017/05/logo.png
administrator
2018-03-09 10:01:33
2018-10-25 02:35:25
PVB vs EVA Laminated Glass